When jet-setting with littles, the whole process can get much more complicated. Gone are the days of casually sipping a latte and reading a book at the gate. When you have little kids, it's much more frantic and you need to plan ahead for every meltdown. Let's face it, even in the best of times, the travel days of any trip can be exhausting. Here are a few travel tips that have made traveling with our kids a little smoother.
Flight Entertainment
We pack a bag for each kid with activities, games and toys that are brand new (to them) and we can pull a new item out as needed. Be sure to save a few things for the trip home, or you'll have to find your nearest Target dollar bin before you head home.
This doesn't have to be complicated, expensive or even all that creative. Before every trip I find a couple of those freebie backpack bags that you get at every sponsored event (I'm sure you have a few of these lying around…) and I run to Target dollar bins, or hit up Amazon for some inexpensive trinkets. Here's a few that are staples in our bags:
Playdough these little containers are the perfect amount for airplane tray tables.
Melissa & Doug water color books These just use a little bit of water in the refillable pen, and when they dry they can be used again!
travel games like chess / checkers / Uno
Coloring books and crayons or pencils
Make sure to include some favorites:
Another travel tip for little kids: If your little kid is into anything in particular make sure you put a few things in that they are guaranteed to enjoy. My littlest loves anything with wheels, so I get an assortment of new toy cars and trucks. My oldest likes to do complicated math. and play chess..so I print out multiplication sheets and math activities for him. We always pack this little travel chess set with magnetic pieces. These are in addition to the random things that I include, and they can be saved for later in your flight when things can turn desperate.
Also, if you have any devices with screens, now is the time to use them! Our favorite for little kids is the Amazon Kindle Fire for Kids – It comes with an indestructible cover and a 2 year, no questions asked warranty. Seriously, your kid can take it for a swim and they will replace it! You can also put in an SD card to expand the storage so you can download lots of content.
Make sure you pre-download some favorite shows and games that you can pull out when you really need them. Now is not the time to worry too much about screen time. Also, remember, when traveling internationally, not all shows and movies are available in all countries, so make sure you download enough content to get you through your entire excursion. We learned this hard lesson when in Italy, with our oldest, when he was 2, and we couldn't watch Adventure Time. The horror!
Snacks!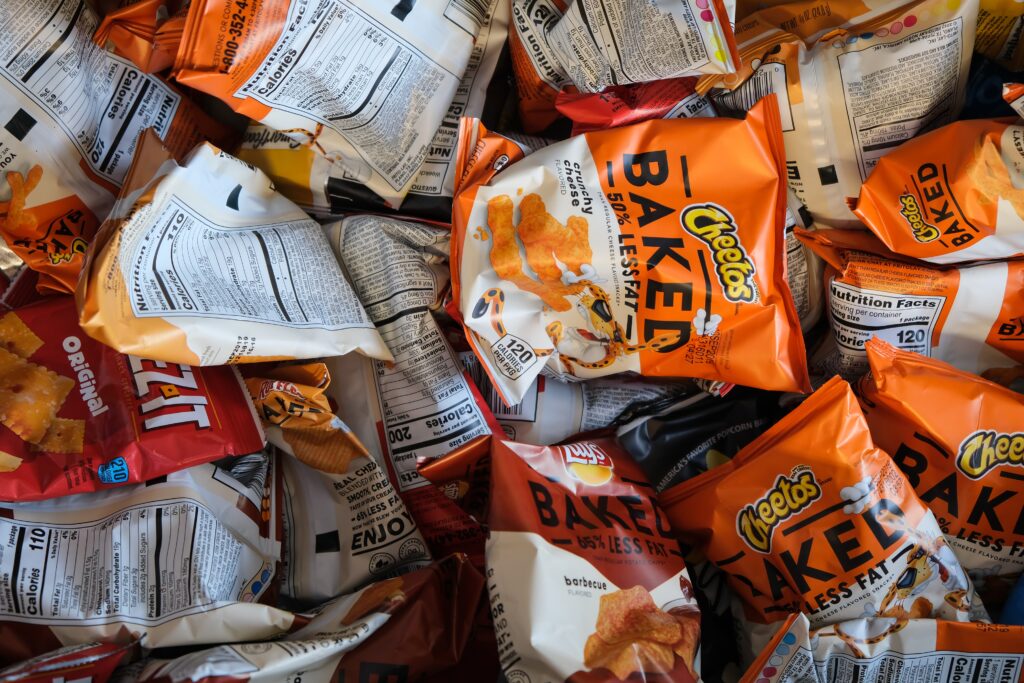 When I travel with little kids, I always pack a whole bag just for plane and travel day snacks. No one can be at their best if they are hungry, and being prepared with snacks my picky eaters will actually eat is a game changer on a long trip. I pack all the things my kids love, and are not allowed to eat regularly at home. Chips, candies, pre-packaged snacks, etc. I also include some things that are reasonably healthy that I know they will eat – bags of freeze-dried fruits, wholegrain goldfish crackers, raisins, cut-up carrots and clementines.
Comfort Items
Does your little kiddo have a favorite stuffed animal or blanket? Bring one or two items from home that they can cuddle. Having a comfort item can help not just on a long flight, but when trying to settle into a hotel or unfamiliar Air B & B. Keep it reasonable. My little kids each have 3-4 things they sleep with every night, and I make them pick 2 that they can bring along.
Melatonin
This is an absolute must if you are going to be on an overnight, red eye or international flight with little kids. If there is a significant time change, the sleep struggle can get intense. Make sure you have a secret weapon if it just gets too out of hand. (I started using this at age 2. If you have an infant, be sure to check with your doctor before giving any medications or supplements!) Before you travel with little kids, be sure you try it at home a couple of nights to be aware of any weird reactions. You don't want to discover any allergies or reactions in the air or in a foreign country. We've used this children's melatonin on most of our longer trips and it's been a life saver on several occasions.
Wipes, Wipes and More Wipes!
As a mom, I always have some kind of wipe with me. We are thankfully past the diaper age, but I still carry baby wipes and disinfecting wipes everywhere I go. Kids of all ages are messy, and they seem to get more-so when traveling. I pack this selection of wipes specifically whenever we go on log trips:
Flushable wipes – all purpose. Gentle for little faces, runny noses, bathroom use and sticky hands. My favorite are the Kirkland brand, and I have them in every bathroom, purse and car.
Disinfecting wipes – individually wrapped great for wiping down airplane trays, dirty hands and surfaces. These are my favorites, they come in packs and individually wrapped as well as several different fragrances. I always have some individual ones packed in my purse, pocket and car.
Deodorant wipes – life is stressful, this is a great little refresher on the go.
Small First Aid Kit
If your kids are anything like mine, they will find a way to get an injury. Usually small enough to be fixed with a bandage, but you better bet they will lose it if there is no bandages available! I have a few of these little kits that fit in carry on bags, purses and backpacks. I always make sure to grab one when we go on an outing. There's a permanent one in my beach bag and in the car, of course. However, if you're packing for a trip, make sure one gets put into your luggage.
---
For ways to reduce the bulk in your beach bag, read this.
This post contains some affiliate links. If you follow them and make a purchase, we get a small commission (that we greatly appreciate!) and it costs you nothing.